I so wanted to go to this years Pigeon Forge Mountain Quilt Fest March 4-7th.…..but I will be staying home working on up coming books, wool boxes and quilts for my Spring Market fabric line…BUT…Primitive Gatherings will be there vending for the first time…and as I was looking for a logo for their show I came across the program…here is the PDF.
It looks like an awesome show…Jenny Doan will be there one night…it looks to have a lot of nice teachers…Buda, Sitar, McCarthy to name a few that I know personally…I would also have loved to meet one of our Veterans, Andrew Lee,who made the Iwo Jima quilt that helped him with PSTD from his service for our country…that is in the brochure as well..
And there looks to be a lot to do around the Pigeon Forge which is why I signed us up to do the show in the first place…I wanted a chance for Nick and I to go for a work get-away…but…that is not going to happen…maybe next year…but I think this show is one of those shows like…Road to California…or how Quilt Oddyssey was…those privately run shows seem to be a little more special and have a lot more going on…
So…if you are close to TN and Pigeon Forge…I think it would be a fun show to attend! Primitive Gatherings is only going to a few shows this year…(Road2 Cali, Pigeon Forge, Paducah & Houston) and this is one of them! I know we were not in Daytona and Virginia this past month…and trust me we would like to be at them all…but it is a business decision…and quilt shows are not what they once were for the vendor…The booth fees can be a little outrageous and with the travel all the way from WI, hotels and meals…it isn't worth all the extra work…and trust me…it is a lot of work! So please go and enjoy your quilt shows that are in your area! So they do not go away!
California/ Teaching/ Wisconsin
I will also be at our store in California this month, March 23-25th teaching at the store on Tuesday and Wednesday…I would love to see you…bring your projects you need help on and I will bring a new project if you are interested in making something brand new.  We love hanging out with old friends and we welcome new ones in as well!
If you are in Wisconsin this month we will be getting together March 17th…Bring your stitching and I make lunch and I will have a project for you to work on if you wish to learn something new!  Contact Amy at ahoefler@new.rr.com to sign up.
Here are some pics from our last WI stitching…
Jodi has finished stitching her Heirloom Rose quilt…now on to the quilting!
She did her initials out of wool instead of stitching…
Kathy…She was in winter hibernation mode…aka…stay home and get it done!
I do not know the name of this one…Kathy maybe will let me know when/if she reads this and I will update it…
She also took some vintage linens and quilted them…then made them into pillows…how cool is this? 
She also finished one of Lori Holt's Christmas quilts…also if you do not know we do have a Lori Holt club at our California store…call them if you wish to join in!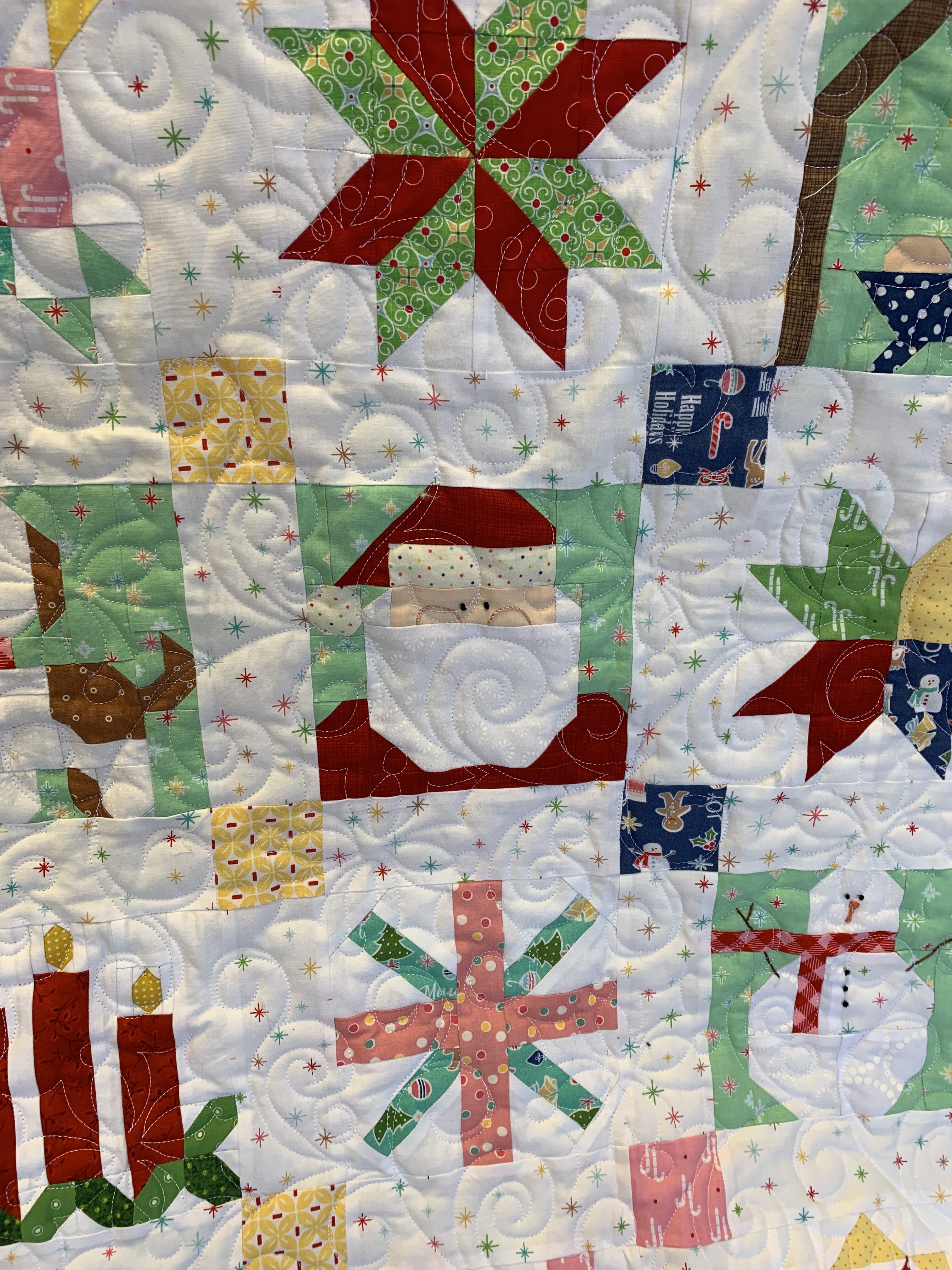 Kathy finished quilting this quilt…it was a collaboration of Buttermilk Basin's monthly applique blocks and my spool alternating blocks and border…We love this quilt!!! I know we have a pattern for the finishing for this quilt…the appliques are from Buttermilk Basin.
Judy is sharing her tote made with our Wisconsin fabric…
Her little heart quilt from the Wool Subscription box.
And our Star Penny mat that came pre-cut!
Judy is sharing her sashiko….
and her machine quilting she designed…
This was pretty cool…she is making a quilt out of her grand daughters drawing I believe…
Kay is sharing a few quilts…this one is from a Jelly roll she won from me!  Needle & Thread Gatherings…
I think she said this one was a Kim Diehl pattern…
Marianne is showing off her wool box projects as well…Marianne's moved and is building a new sewing studio…so her wool boxes have kept her busy while all her fabric is in storage!!!
Terry is showing a quilt made with Flower Garden Gatherings fabric…again…I do not know the pattern…but if Terry let's me know I will update..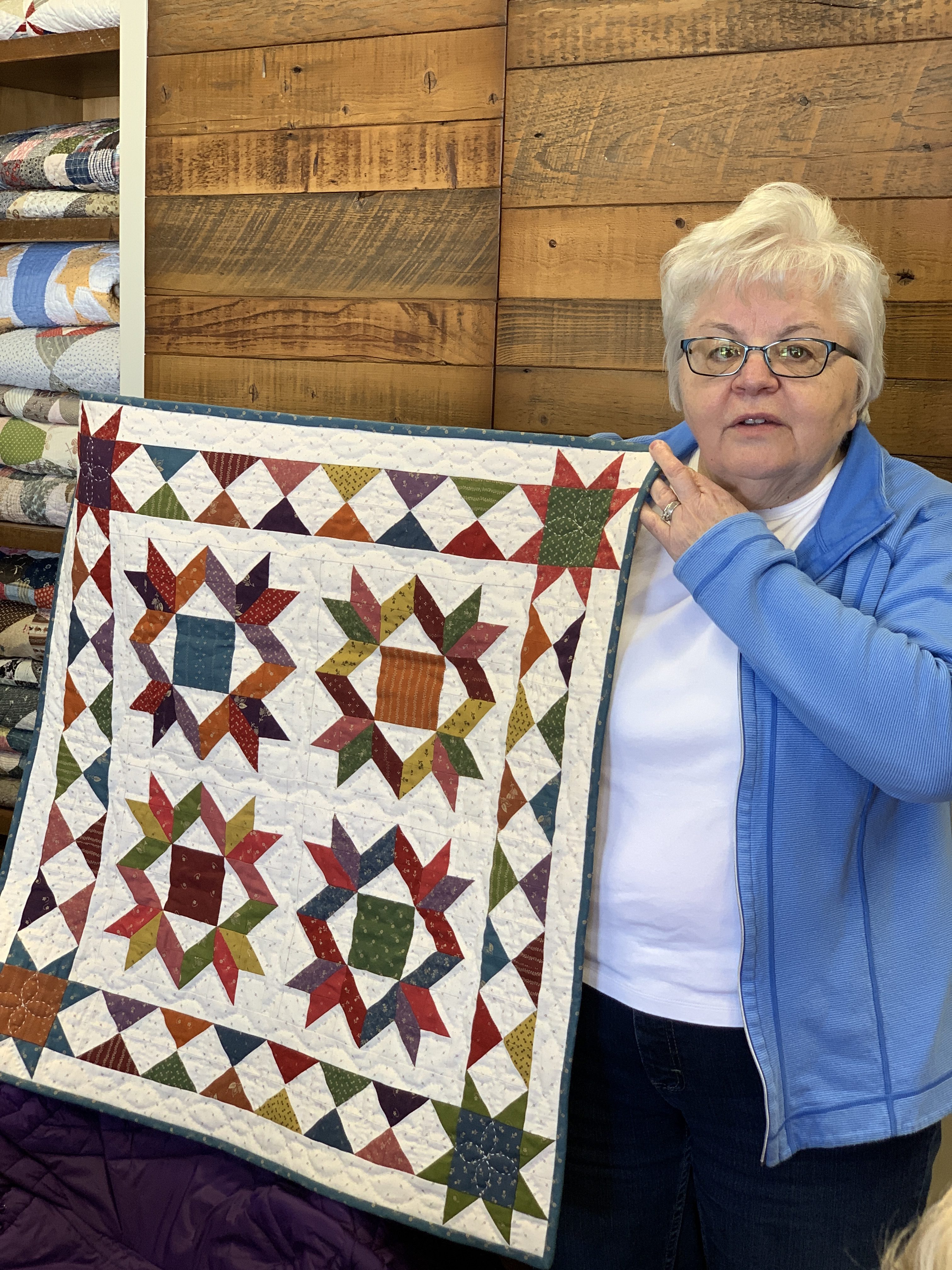 Terry loves making bags and unique items…this is a tall travel with lots of mess pockets…Sallie Tomato? I think? don't shoot me…
and lastly…back from knee surgery a few weeks ago Lori is showing her finished table mat from the Christmas box and some of her mini ways to celebrate…also from the wool box.
I hope you enjoy these monthly posts about our Sit & Stitch Gatherings  both in WI & CA…and maybe you can join in sometime…we would love to meet you!
All for now…I can't wait to hear about the Pigeon Forge show…have any of you been there?…26 years is a long time!  Have a great week and see you on Block Head Day!
Lisa